Click here to view original web page at www.bloomberg.com
Early this month a deal was struck for a mine on the outskirts of the Congolese jungle.
Freeport-McMoRan Inc. agreed to sell its copper and cobalt mine in the Democratic Republic of Congo to China Molybdenum Co. for $2.65 billion. At the time, the reasons for the proposed sale appeared clear: Freeport needed cash to pay down $20 billion of debt, while China was on an acquisition spree that had already seen CMOC agree to snap up Anglo American Plc's niobium and phosphate unit in Brazil.
But a new report from Macquarie Capital Ltd. underscores the strategic nature of the proposed acquisition, with China's interest in the second metal—cobalt—at the heart of the deal. As the country seeks to modernize its economy and pivot away from traditional, pollution-heavy industries, the need for niche materials becomes more pressing, and China is striking deals to take control of fragile commodity-supply chains that stretch around the world.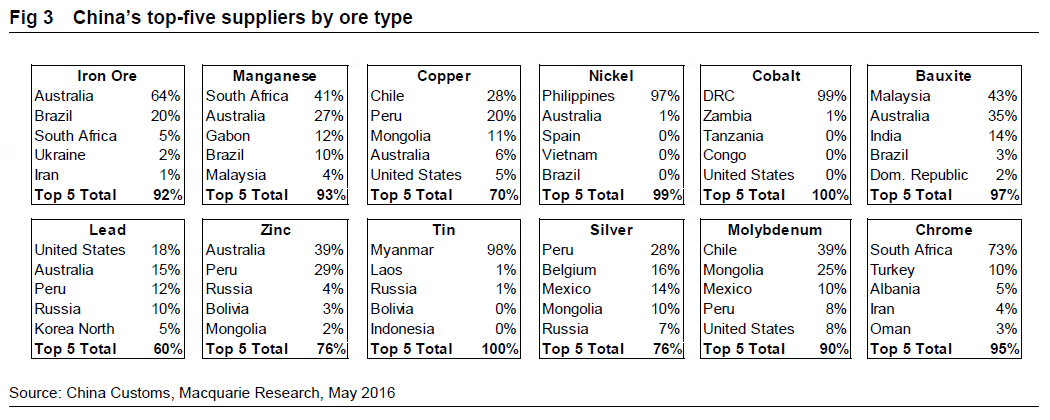 "The Chinese commodity business model is pretty clear," wrote Macquarie analysts led by Colin Hamilton. "Source raw materials wherever available, and have enough capacity to process these, ideally exporting a small volume of refined products. This has worked well over the years where plentiful raw material supply is available. But this raw material supply is also the risk to the model, should it become overly reliant on a small number of suppliers."
The sprawling mine of Tenke Fungurume is a top supplier of cobalt, a key ingredient for rechargeable car batteries on which China is leaning both to reduce pollution and modernize its manufacturing sector. The Freeport deal positions the company "to benefit from growing demand for cobalt, particularly from electric vehicles," CMOC said in a statement.
It also highlights the fragility of China's global supply chain for raw materials, with top risks stemming from scarcer commodities mined in Myanmar, South Africa, and the DRC, according to a new "China raw materials imports" index developed by Macquarie.
The index gauges the proportion of supply that China imports from each country against that nation's investment attractiveness score, as published in the Fraser Institute's 2015 survey of mining companies. On that basis, tin ore sourced from Myanmar is the weakest link in China's commodities supply chain, followed by chrome ore from South Africa.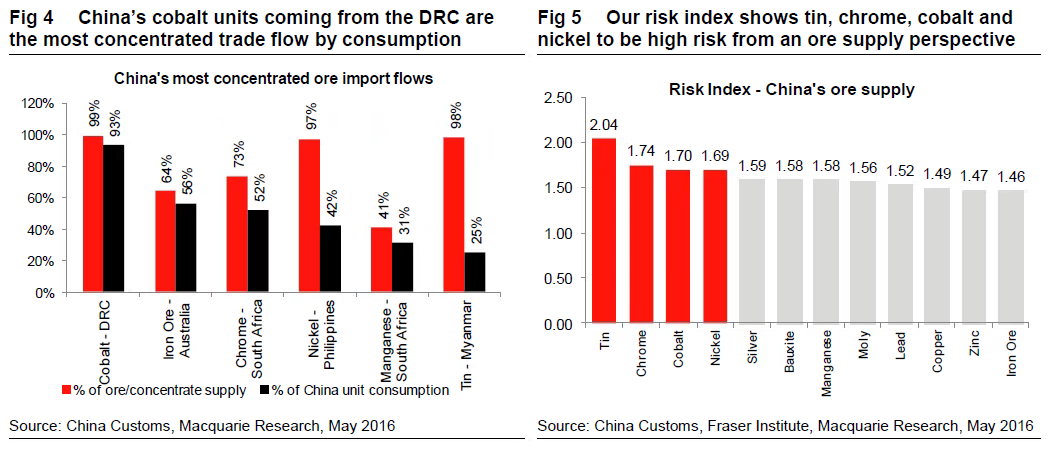 The table doesn't take into account every factor, warned the Macquarie analysts. For instance, countries such as the U.S. may have a high investment attractiveness score but a much more delicate relationship with China, "given the escalating commodity trade war between the countries."
On a pure country basis, China's supply of cobalt from the Democratic Republic of Congo is by far the most vulnerable to a shock and may go a significant way toward explaining the Freeport deal.
"This is also a commodity where China has next to no domestic resource," wrote the Macquarie analysts. "We believe this dependence was an important factor in China Molybdenum's $2.65 billion offer for Freeport McMoran's stake in the Tenke Fungurume operation in the DRC, a mine that accounts for circa 17 percent of all cobalt units."